Joe's IBM 5100 Computer
Modified 1/2/98
What! You never heard of a 5100? Well it's not surprising. Even though IBM called it a Personal Computer, they cost around $15,000 in 1975! The model number 5100 indicates that it is indeed the forerunner of the IBM PC (model 5150) and PC XT (model 5160) and all the ones that followed. One of the most unusual features of the 5100s is that they could run BASIC or APL or both. The C01 designation on my 5100 indicates that it came with both APL and BASIC build-in and with a whopping 16K of memory!
---
IBM 5100 Portable Computer
CPU: IBM proprietary IC module
Manufacturer: IBM
Original Price: $20,000 - Original Date: 1975
---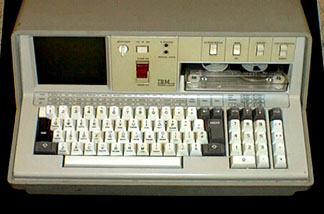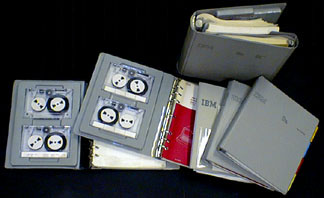 ---
---
photos courtesy of H. Layer (c) 1995
Some facts about my 5100. Date sold: 10/05/1977 Original owner: State of Florida - University of Southern Florida Sarasota Fl. Selling price: $12,575

Machine/Model Features Description

5100-C01 Model 5100 computer with BASIC and APL and 16K of memory

1525 Communication Adapter

1524 Expansion Attachment Communication Adapter

6301 External I/O Adapter

Price History of IBM 5100 computers

$10,975 09/09/1978

$7,680 05/01/1979

$4,145 06/02/1980

$3,316 10/01/1986

$4,345 03/17/1989 (Probably due to a general price increase on all IBM hardware not just on 5100)
---
Many thanks to John Galie of IBM Corp. for his help in researching the history of this unique computer. Note: this computer has since been sold. It is not available.

---
This page was created by Joe Rigdon, Oviedo, Florida in the interest of preserving old calculator and Computer technology and history , even if it is an IBM. All original material is copyright 1997 by Joe Rigdon, all rights reserved.